How to Train the Kenyan Way
Observations from my time with the Kenyan Olympic Team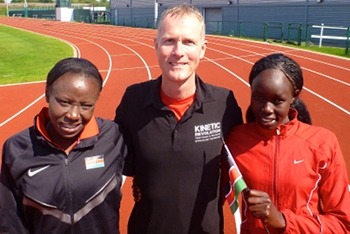 Over the last two weeks it has been my privilege to work with the members of the Kenyan Olympic Athletic Squad, at their holding camp at Bristol, prior to the Olympic Games in London.
This gave me an ideal opportunity to observe them up close and to see all of their training routines, what they did outside of training, what they ate and how they conducted themselves in training and in life.
Some food for thought
In this first blog post I simply want list of some of the sometimes surprising aspects I learned about the Kenyans during my time with them. In later posts I'll then expand on many of these points.
N.B. The aim of this specific post isn't to dissect or analyse their training methods and practices (I'll leave that for follow-up posts). Here I just want to give a brief account of my overall impressions having spent two weeks working with the squad.
If you'd like some particular insight then please comment and I can tailor follow-up blog posts to cover these points in further depth.
They did every training session as a group. This is how all British training used to be completed; the power of the group will improve performance
Their warm up routine was long and meticulous
They conducted a great deal of ballistic movement in this warm up
Kenyan running is truly organic they do not limit themselves by modern gadgets. The coach had to borrow my watch; neither of the female athletes I worked with owned a watch
They are excellent at avoiding injury and would often not complete a set if they felt a niggle. This was not laziness.
I never once saw them eat between meals
I never once saw any form of sports nutrition
Their main sets were short and sharp. 2 x 450m flat out was the extent of one session. They went through 400m in 51s
I never once saw them unhappy; they seemed consistently cheerful and positive
When asked about their average weekly mileage they had no idea
When they were tired they did not push; when they felt good they went flat out
They never once ran on the road. It was track or grass only
Technically they were naturally adept but not perfect
They worked a great deal on ankle strengthening and flexibility even though they naturally excelled in both
They do gym work but the great majority of their training is running
They work hard
I never once saw them run barefoot nor did I see them in minimalist footwear
19 Comments

Leave a comment. Ask us a question...