Do You Know Your Lactate Threshold?
The aim of the my first article on Lactate Threshold Training was designed to explain what it actually is. In this second look I am aiming to describe how to determine Lactate Threshold (LT) and in the final piece I will look at how to improve it.
Measuring Lactate Threshold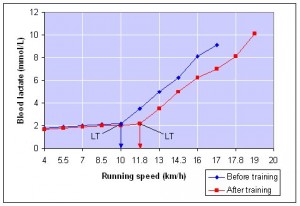 The best way to determine your LT is to be tested in an accredited exercise physiology lab.
During this test you run or cycle for several minutes at increasing speeds. The lactate concentration in your blood is measured by pricking your finger and analysing the drop of blood. A typical LT test might consist of 6 increasingly fast stages of 5 minutes each, with perhaps 30s between stages to obtain the sample.
The graphing of your blood lactate concentration at various running speeds allows the physiologist to determine your pace and heart rate that coincide with your lactate threshold. I have found this method to be the most accurate and is the one I would recommend. It doesn't have to cost the earth; check out your local university sports science department or even volunteer for a student's research project.
Estimating Lactate Threshold
If the above method is not available to you then a lower-tech method is to use your race times. If you are an experienced runner for example then your LT Pace will be approximately your Race Pace for a 15k to half marathon race. The rationale behind this is that it is your lactate threshold that determines the pace you can maintain for races of these distances. For shorter races you can exceed your LT and for longer races for example a marathon you will run under your lactate threshold. If the majority of your running experiences are with shorter distances then your LT pace will be roughly 10 to 15s per mile slower than your 10k race pace.
You can also estimate the appropriate pace to stimulate improvements in your lactate threshold based on heart rate. LT Pace generally occurs at approximately 80-90% of heart rate reserve, which is about 85 – 92% of maximal heart rate. As the relationship between lactate threshold and heart rate varies depending on genetics and fitness level, your 15k to half marathon race pace is probably a more accurate estimate. You can then determine the heart rate that coincides with that pace.
Even though LT training is the most important type of training for distance runners looking to enhance performances, many runners don't understand how to improve their lactate threshold.
In the third and final article of this series, I consider the three basic types of LT running workout, their objectives, and examples of each type of workout.
2 Comments
Leave a comment. Ask us a question...