Comrades Marathon – Top Ten Tips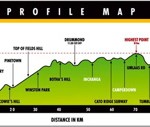 After several decades of competing in endurance events from racing triathlon, including a number of Ironman finishes and racing at the World Championships, running standard marathons, running endurance team relay races (Hood to Coast and also Ragnor Relay – both about 190 miles long) and cycling the length of the UK on a single gear bike, 2012 saw me attempt my first Ultra Marathon.  I picked the most iconic and epic Ultra in the World – namely the 56-mile (90km) long Comrades Marathon in South Africa.
What makes a race epic? It's more than just scale due to the number of runners and the distance – plenty of races have that. Many people have run big city marathons such as London, Paris or Boston that have similar crowds and more runners but the only similarity between Comrades and London is that they are running events. It is the excited conversation in the street with a stranger when they see you carrying the bag from the expo. It's the brutal hills along the route which make most undulating road races look flat. But most of all it's the camaraderie and support from fellow runners, the crowd and (it seems) everyone else in South Africa.  The whole race from start to finish is covered live on SABC, South Africa Broadcast Corporation and is watched live by millions of viewers.  When I say the whole race – that is the whole 12 hours as anyone who does not finish inside the 12 hour cut off does not get to cross the finish line or be awarded with a medal.
With the change of direction each year, 2012 saw the race being a "down run" from Pietermaritzburg at an altitude of 2200 ft to the harbour city of Durban. On the way runners encounter 5 major hills, popularly known as the "Big Five," but the whole route is extremely hilly, there are about 400 yards of flat road in the 56 miles.  In total there are 7000 ft of descent in a down run and about 5000 ft of ascent.  To put this in perspective, Ben Nevis, the highest mountain in Scotland, is 4409 ft high.
Having run the race only last week I thought it was an ideal opportunity to put together my top 10 tips for running this and many other ultra marathons.
Top 10 Comrades Marathon Tips:
This is an extremely hilly race so train for the hills.  Hill training means running uphill and running down hill.  In many cases it is the eccentric loading of the down slopes that will start to take their toll later in the race so do hill reps with a difference ie sessions like 8 x 2 mins down hill then walk back up when you are training.
Train at your race pace.  This is true for all races but especially so when the event is 56 miles long.  The cut off, that some 2,000 of the 18,000 runners failed to make, is 12 hours – to get a 10 hour finish you need to average 10:45 per mile pace.  If this is your goal learn to run at that pace.
In the build up you will need to bank a marathon to qualify and get your start pen identified.  A standard marathon build up is a good way to train for this and is indeed what I did.  Following my marathon I had 6 weeks of long slow miles prior to the race.
Back to back runs are an excellent way of getting the miles in.  Both double run days so say 40 minutes steady A.M. and 40 minutes steady P.M. but also running long on Saturday and Sunday.  My biggest sessions were 20 miles on the Saturday and 20 on the Sunday and also a 10 miler on the Saturday and a 32 miler on the Sunday.  All at about 10 min per mile pace.
Despite there being 18,000 runners only about 700 were not from South Africa.  International athletes are very well looked after with your own registration area complete with food and drink and also your own area at the finish where your bags will be.  You can buy tickets for your family to meet you in there if required.
The race starts at 05:30 and for the down run you start in Pietermaritzburg with is at about 2,000 ft so wear something warm to throw away at the start.  In the race bag there was a thin warm up top but I also wore a long sleeved run shirt, which I gave away on the route.
The aid stations are fantastic and although I carried a couple of bars you could pretty much rely on those stations for all your needs.
Once the start settles, try to stay with a group of runners that have completed Comrades previously.  You can tell from the colour of the race numbers how many times they have finished. These runners will know the route, know the endurance required, and know not to go too fast too soon. Follow and learn from them, talk to them – you are not running that fast!  I ran with two guys, Mlungisi and the fantastically named Knowledge who had 22 and 21 finishes respectively – one runner was completing his 46th Comrades. A person who has completed only 1 or 2 might be at risk of overconfidence and easily lose respect for the route.
If you want to truly "race" Comrades I would suggest going and just "doing" the race at least once and preferably twice, once in each direction, to learn what it takes before your big attempt at a certain pace.
Be prepared to dig deep but be inspired by the experience.  The crowd support along the whole route, the local and national interest is unbelievable.  It is a national institution the likes of which we do not have in this country.  There is no one in fancy dress, no one doing it for charity it is just thousands of runners banding together in a mutual event watched by the entire country.  There was 28 pages of coverage in the national newspaper the next morning with every single finishers result  – be prepared to be blown away!
So the big questions – did I finish and would I do it again? I loved every minute of even the pain and I finished in 10:05.  Would I do it again?  Before the race I suspected that the lure of a Back to Back medal might tempt me but I was sure that we would have to wait months, like childbirth, for the painful memory to subside before a decision was made. I didn't expect that by breakfast on the day after the race I was already planning my return!
The date for those of you who have been inspired is 2 June 2013 for the "Up Run".
9 Comments

Leave a comment. Ask us a question...