Skechers GoBionic Trail Running Shoe Review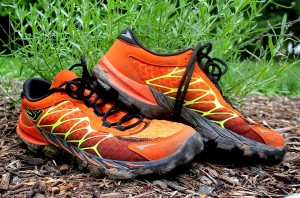 Some time last Spring a buddy of mine sent me a link to a one week trail running tour in Italy's Dolomite mountain range. I'm a sucker for trail porn and I eagerly showed the pictures to my wife, hoping that at best I'd plant the seed for a future vacation with the guys, or at worst I'd get a gentle smack upside the head. You can imagine how psyched I was when she responded, "Let's go this Summer!" What can I say, I'm a lucky lucky man.
Packing was relatively easy, until it got down to choosing which shoes to bring. The final contenders were the Pearl Izumi Trail N1's that I used a bunch in Kauai last winter and a relatively new pair of Inov-8 Trailroc 255's that I had been enjoying on trails in the North East this Spring. I had decided on the Inov-8s because the outsole felt grippier on rocks, but then I get this cryptic message from a buddy of mine, The Running Swede, asking if I want to try out a new trail shoe from Skechers, the GoBionic Trail (GBT). I figured it probably wasn't crazy to bring two pairs of shoes (especially considering the predicted afternoon thunderstorms) so I took him up on the offer and in the end he even managed to get a pair for my wife. What a guy!
Read on to see how the GoBionic Trails held up over lots of miles, thousands of feet of elevation gain and loss, and trails covered in mud, snow, rocks, and routes (plus a little time on the road)…
FORM
I'm trying to spend less time rehashing info that you can easily glean from the brands website, but I'll touch on the basic specs:
8 oz. in a men's size 9
4mm heel-to-toe drop; 0mm with insole removed
Lugged outsole made of Resagrip (hardened Resalyte)
Thin rock plate to protect from stone bruising
Ortholite anti-microbial sockliner to combat odor
Hydrophobic mesh and synthetic upper that both repels water and aids in drainage
Interior designed for barefoot wear
In terms of aesthetics, they're subtle in a, "Hey man, your feet might be on fire" kind of way. Yeah, the bright orange and yellow combo definitely screams at you, but it also reduces the chance that you'll get confused with a deer, right? The looks actually grew on me over the course of the trip and I'll be damned if I haven't come around to digging the orange and black scheme in the end; although, our guide did ask me if they come in men's colors, so there's that (I should note, though, that he also thought that my wife's hot pink colorway would be good for guys, so go figure…must be a euro thing).
FIT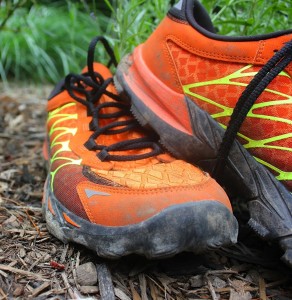 At the outset let's abandon all discussions of "ideal" heel-to-toe drop, minuscule differences in weight, or revolutionary new midsole compounds. What I want most in a shoe is for it to fit really well. I want my heel to be securely snugged down, my toes to have enough room to wiggle, and my midsole to be nicely wrapped. Oh, and I don't want anything rubbing my foot the wrong way. If you've read some of my reviews then you'll know that I have a somewhat wide foot that has a medium to low arch, but I found the GBT extremely comfortable on my foot. For the record, my wife has a pretty narrow foot with a high arch and she also found her pair very comfortable on her feet, so I think these will work for most foot types. I wear a size 12 and the GoBionics fit true to size, leaving enough room at the end for my toes to not get hammered for the (not so) occasional rock kick. I didn't try them with the insole removed, so can't say how they fit in their zero-drop configuration; but, I'd have to imagine they'd feel roomier at the expense of some underfoot protection.
FUNCTION
I decided to try out the GoBionic Trails on the second day of the trip, because it was one of the longer and harder legs of the trip (14 miles with around 6,000 net feet of gain and another 6,000 net feet of loss) and why not use a brand new shoe. Did I mention there was also going to be snow fields? Yeah, this was a gamble.
I'm happy to report that the GBTs exceeded my expectations. Right off the bat I found the cushioning felt supple but not sloppy. There was a good amount of ground feel preserved but I didn't have to worry too much about where I put my foot, even on sections with rocks and roots. They felt really light and really nimble and I found myself getting into a great rhythm as the miles flew buy. They were, quite simply, a joy to use. I was surprised at how protected my feet felt on technical terrain despite lacking a rock plate or rubber outsole. Seriously, they did a great job of keeping these light yet protective. Here's a few shots of me and the Mrs. modeling them in the mountains: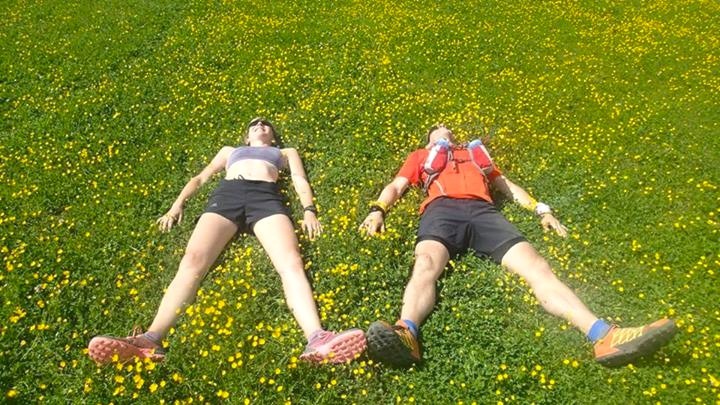 The upper also performed beautifully, keeping out trail debris and water (thanks to the hydrophobic treatment they use) but still draining and drying quickly when they got soaked. There aren't a ton of hard overlays but the upper still felt secure and my foot didn't feel like it was moving around a ton, even on downhills where you feet slide forward. The only ding to the upper is that I would have liked a bit more protection on the sides for times when a random rock or branch would jut out and snag my feet.
The only major change I'd make is to the outsole. The trouble was that they just don't have much grip in wet conditions and I find myself sliding around a lot, especially in the snow which was oddly plentiful for July. Now part of this can be blamed on my form, which while usually very good suffered from the affects of the altitude and the challenging terrain.  I found running over wet rocks or roots pretty similar to my experience in the snow, and while I'm okay falling in the snow I don't want to end up ass-over-elbow on rocky singletrack if I can help it (I usually can't). I think part of this problem could be solved by adding some blown rubber (at the expense of weight) and the designers might want to take a look at lug placement, since they're spaced pretty far apart which means you tend to slip between them on harder wet surfaces.
The only other complaint is that the outsoles wear down a little quicker than I'd like. Again, this is probably because they're just using hardened Resalyte (Skecher's midsole compound) instead of rubber, which is rare for a trail shoe. I took them out on a 10-mile tempo run on a mix of dirt and paved roads and the lugs had noticeable wear afterwards. My guess is that I'll get around 200 miles out of them, which is less than I'd like. That being said, they're priced very reasonably so I could buy two pairs for the amount I'd spend on a one pair of high-end trail shoes.
FINAL THOUGHTS
Overall,  I probably put around 50 miles of hard running on them, I didn't get a single blister, and my feet felt pretty fresh at the end of each day (considering what we were doing). So yeah, I'd say Skechers really nailed it with the GoBionic Trail.  I'd love to see the lug pattern changed and some rubber thrown in to make them grip better and last longer. That being said, they'd still be one of my top choices for training or racing in dry conditions on anything but the rockiest of trails.
Leave a comment. Ask us a question...