WOD: Friday 7th December 2012
We have GB long distance runner Charlotte Purdue (@charliepurdue) to thank for today's 15min workout. Charlotte provided us with her three run specific strength exercises of choice.
Follow @RunStrengthWOD for daily workouts
Glute Bridges: 3 x 20 (double leg)
Calf Raises: 3 x 25 (double leg)
Plank Hold: 3 x 30-60sec holds
Glute Bridges
Calf Raises
Plank Hold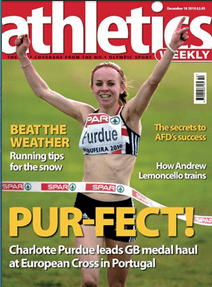 ABOUT CHARLOTTE PURDUE
Pocket Rocket, Charlotte, has repeatedly earned international selection over the track, road and cross country terrains having represented Great Britain on a total of 10 occasions.
Highlights comprise a bronze in 2007, silver in 2008 and 2009 and gold in 2010 at the European Junior Cross Country Championships. In 2011 she competed for the first time in the Senior World Cross Country Championships, finishing a commendable 14th (first European).
Recent accolades include 4th place in the 10000m and 6th place in the 5000m at the 2010, Commonwealth Games.
Leave a comment. Ask us a question...