White Beans and Garlic Shrimp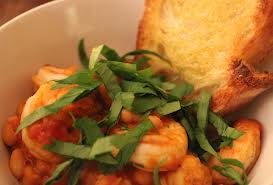 This is a very simple and quick after work meal (throw in some more bread and it's also great post-workout).
If your kitchen is stocked properly, all you have to do is thaw the shrimp and throw everything together! If you have time, I highly recommend marinating the shrimp for an hour. It really intensifies the flavors in the shrimp and the rest of the dish.
Serves 4 
Ingredients:
6 tablespoons olive oil, divided
6 garlic cloves, minced, divided in half
2 tablespoon of crushed red peppers flakes (or more to taste)
1 small (16 ounce) can of diced tomatoes
1 tablespoon tomato paste (optional)
2 15-ounce cans white beans (such as cannellini), rinsed, drained
1 cup of chicken broth
1 pound medium shrimp, peeled and deveined
1 teaspoon smoked paprika – you can substitute with paprika or omit
2 tablespoons chopped flat-leaf parsley (optional)
Kosher salt, freshly ground pepper
Grilled bread (optional)
Directions:
Preheat broiler. Heat some oil in a large, ovenproof skillet over medium heat. Add half the chopped garlic cloves, chili flakes, stirring constantly, just until fragrant, 1-2 minutes (if you allow the garlic to over cook it will become bitter).
Add tomato; season with salt and pepper. Cook, stirring and smashing tomato with the back of a wooden spoon.
Add tomato paste and cook, stirring constantly, until paste is deep red and caramelized, 3-4 minutes. Stir in beans and broth. Bring to a brisk simmer and cook until juices are slightly reduced and thickened, 3-4 minutes. Season to taste with salt and pepper.
*If you do not have tomato paste, just boil it down a little more. It will not be as thick, but will taste fine.
Combine remaining chopped garlic, 2 tablespoons oil, a pinch of crushed red pepper if you want, shrimp, and paprika in a medium bowl; season with salt and pepper and toss to evenly coat shrimp. Scatter shrimp over beans in an even layer.
Broil until shrimp are golden and cooked through, about 3 minutes. Drizzle remaining 2 tablespoons oil over shrimp and beans; garnish with parsley. Serve with bread, if desired.
Leave a comment. Ask us a question...