UltrAspire Impulse Hydration Waist Belt Review
UltrAspire Impulse Hydration Waist Belt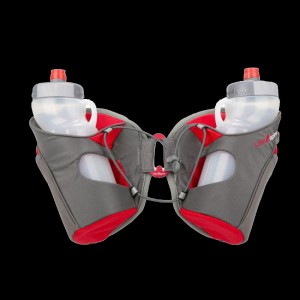 With spring already here and summer just around the corner, it's time to dust off your hydration pack and prepare to sweat. The trouble is that carrying water has to be my least favorite thing about hot weather and long runs. I usually stick with belt-based bottle systems, as backpacks make me even sweatier (imagine Chewbacca in a sauna) and hand-held bottles only hold enough liquid for shorter runs.
Sadly, finding the right fit on most waist belt hydration packs seems like a Goldilocks scenario: wear it too high and you feel like you're in a corset; too low and you'll get a wedgie; too loose and it sloshes around like a drunk after last call; too tight, and…well, you get the point. The end result is that I spend a good portion of my run trying to reach that "just right" moment, which is damnably elusive.
Enter the UltrAspire Impulse Hydration Waist Belt, which retails for $66 (£50).
Form
The Impulse holds two 20 ounce (0.6 liter) bottles in articulated holsters, features a sweat-proof belt with an adjustable metal hook closure, and weighs in at 14 oz (400 g) with bottles. The construction of the pack and bottles is first rate so durability shouldn't be an issue (note: this pack was purchased by me and not a press sample).
The included UltrAspire Human20 bottles have wide-mouth openings, thumb holes for easy grabbing and carrying, twist-open nozzles, and  BPA free construction. To prevent accidental ejection, each bottle has a small circular magnet on the bottom that connects to magnets in the bottom of the pack's holsters.The holsters are connected by a small metal clasp that allows them to move independently from each other, minimizing bounce.
The belt's front-facing hook closure is located off center to relieve pressure on your stomach. It also allows for quick pack fastening and removal without having to tighten or loosen any straps.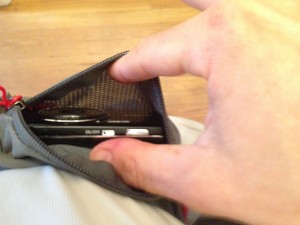 The pockets are plentiful, easy to access, and well located. In the front there's a stretchy zipper compartment on the right that fits my iPhone, wallet and keys (the rubber pull-tab is a nice touch) and an open mesh pocket on the left that fits 2-3 gels. There are two more open mesh pockets round back, to the outside of the holsters, that each carry 2-3 more gels or any other items you want to cram in there. There's even a shock cord between the holsters that allows you to cinch down extra layers, and if you're crafty with your packing you can stash a fair amount of kit.
Fit
Overall I find that the Impulse fits very well. The Impulse sits happily on your natural waist with the bottles resting just above your upper glutes. The open mesh padding along the sides prevents the strap from digging into your sides (and breathes very well) while the hook closure system helps alleviate unwanted pressure on my stomach, even when the belt is firmly tightened. And because there's only one strap to adjust, I fiddled less with the Impulse than with other waist belts I've used, like Fuel Belt's R30 Revenge, Amphipod's Full Tilt 20/20, or Camelbak's Delaney.
Function
I found the Imuplse versatile and comfortable to use on my long runs. The articulated holster design allows the pack to conform securely to my body and I never noticed it riding up or bouncing, even when fully loaded with water and gear (bringing the total pack weight to just shy of 5 lbs (2.25 kg). That's impressive, as Fuel Belt's R30 Revenge tends to bounce a lot if you use all three provided 7 oz (.2 L) bottles.
The holsters are angled so that you can quickly access the bottles, but they don't dig into your back or interfere with your arm swing. Another nice touch is that the holsters don't collapse when you remove the bottles, making it that much easier to put them back without futzing around.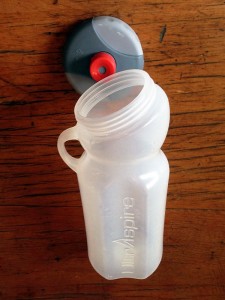 The ergonomic design of the bottles (slanted top and thumb loop) makes them comfortable to hold while drinking on the run. The bottles also do a great job of staying closed without leaking, but I found that the twist-open nozzle isn't the most practical design, since you have to use either your teeth or other hand to get them open. I also felt that the magnets used to secure the bottles in the holsters are pretty unnecessary, as the holsters alone do a good enough job of keeping the bottles secure.
Oddly, my favorite feature of the pack was the ability to tuck the excess belt strap into a space behind the zipper pocket on the right, which means no annoying strap flappage (is that even a word?). I normally trim excess strap anyway, but this was a nice touch (and something other designers should take note of!).
Final Thoughts
I've greatly enjoyed my time with UltrAspire's Impulse. I highly recommend it to anyone looking for a running hydration pack, given it's secure fit, large carrying capacity, and durable construction.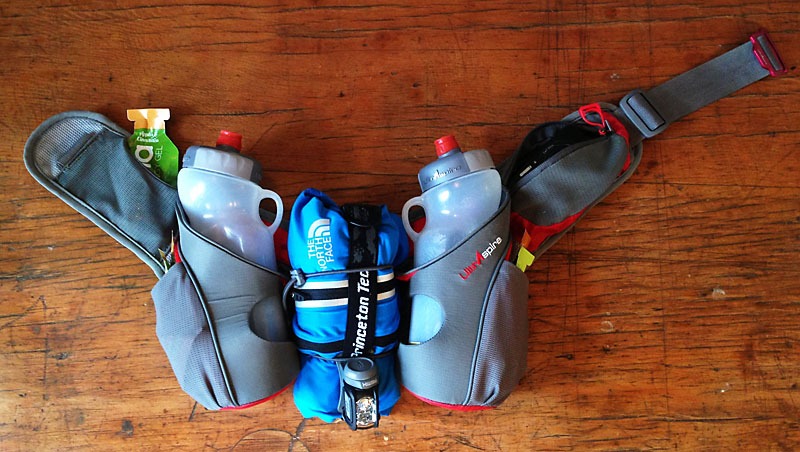 From marathon-pace long runs to 3-hour outings in the woods, the Impulse performed beautifully. And at $60, I think it's is a good bargain, especially when you consider its versatility and performance relative to offerings from other brands (for comparison: the Fuel Belt Revenge R30 retails for $50/£30).
The best endorsement I can give is that the UltrAspire Impulse will be my first choice if I choose to carry a pack for The North Face Endurance Challenge 50k I'm running outside of Washington D.C. this June.
Leave a comment. Ask us a question...