Tips for a Healthier Food Week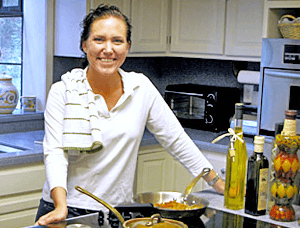 I'm always hearing how people are having a hard time with time management in the kitchen. People are trying to balance work, family, training, getting to the grocery store, cooking, AND cleaning up after themselves. I've put together a quick sample of a few days that should be able to help you conquer some of your time management issues in the kitchen.
Sundays
This is the time to cook some quinoa, bulgur wheat, brown rice, barley, etc. I personally like to cook off a larger amount of quinoa than the other grains because I like to add it into them. For example: instead of just a side of bulgur wheat, then add some quinoa and you have an extra source of protein! The point is, that if you do this twice a week you cut time in the kitchen and are one step closer to a healthy meal when you get home from work or a training session.
This is also the time I grill, cook, etc. some chicken breasts and thighs for the coming days.
Examples on how to utilize leftovers and already cooked grains for an even quicker meal:
Night 1
Grilled Chicken with Black Beans and Rice
Season the chicken breast with salt, pepper, onion powder and garlic powder. Grill or bake some chicken breasts/thighs if you haven't already. For the black beans: sauté́ red bell pepper, onion and garlic; then add a can of black beans. Season as you wish with an all-purpose Adobo seasoning. Heat up the rice or whatever grain you want. Dinner!
Night 2 or Lunch
Burrito
Braise some of the cooked chicken in taco seasoning. You can use canned chipotle peppers, onions, bell peppers, etc. for added flavor. After the chicken is a bit tender, hack it up, combine it with leftover black beans and rice, cheese, sour cream, tomatoes and you now have a burrito.
Night 3
Chicken Fried Rice
You can sauté some diced red bell pepper, onion and garlic in a sauté́ pan —- you can add more vegetables you have on hand that are fresh or even frozen. Remove, add a 2 scrambled eggs or more depending on how many people and how much you are cooking into the hot sauté́ pan. Wait till it starts to bubble; this is when you add back in some of the pre-cooked chicken, onion, bell pepper, garlic, pre-cooked rice and frozen peas. Combine it all while adding low sodium soy sauce or Bragg liquid amino and siracha for your desired heat consistency.
A separate note on chicken fried rice and why I always have the ingredients on hand; even if it's all in the freezer and you remove earlier in the day.
Chicken fried rice is a great recovery bike meal. A person can burn 3000-6000 (some people even more) calories on a long weekend ride. It's important replenish the calories that have been lost for proper recovery. White rice gets those calories in even faster than brown rice.
Leave a comment. Ask us a question...