Sweet Hungarian Paprika Chicken
As the weather starts getting cooler, I love to start braising meats. It gives dishes a richer and heartier flavor without adding much fat. This makes a great post workout meals as you have lean protein and complex carbs to help replenish your muscles. Make sure you use the sweet Hungarian Paprika because that makes all the difference in the world with this recipe.
 Ingredients
6 chicken breasts, bone-in with skin removed
3/4 teaspoon coarse salt, divided
1/2 teaspoon freshly ground pepper
2 tablespoons canola oil
1 tablespoon butter
2 onions, chopped
Pinch of sugar or some honey
1 red bell pepper, diced
2 carrots, peeled and diced
2 tablespoons tomato paste
2 tablespoons sweet paprika
1 teaspoon crushed red pepper
1 teaspoon dried marjoram or dried herb you like
1 cup chicken broth
1/2 cup reduced-fat sour cream
1 tablespoon all-purpose flour
2 tablespoons finely minced fresh parsley and/or chives
Directions
Pat chicken pieces dry with paper towels and season with 1/2 teaspoon salt and pepper.
Heat oil and butter in a large heavy casserole or Dutch oven over medium heat. Add onions and sprinkle with sugar. Cook, stirring frequently, until the onions are very soft and light brown, 10 to 15 minutes.
Stir in bell peppers, carrots, tomato paste, paprika and crushed red pepper. Add the chicken and stir it gently into the onion mixture. Sprinkle with marjoram and add broth. Cover the pot with a tight-fitting lid and simmer over medium-low heat until the chicken is very tender, about 50 minutes.
Just before the chicken is done, whisk sour cream, flour and the remaining 1/4 teaspoon salt in a small bowl until smooth.
When the chicken is done, remove it to a plate. Stir the sour cream mixture into the sauce; return to a simmer and cook, stirring, until the sauce coats the spoon. Reduce heat to low, return the chicken to the sauce and reheat, about 1 minute.
Serve over brown rice and some grated parmesan cheese.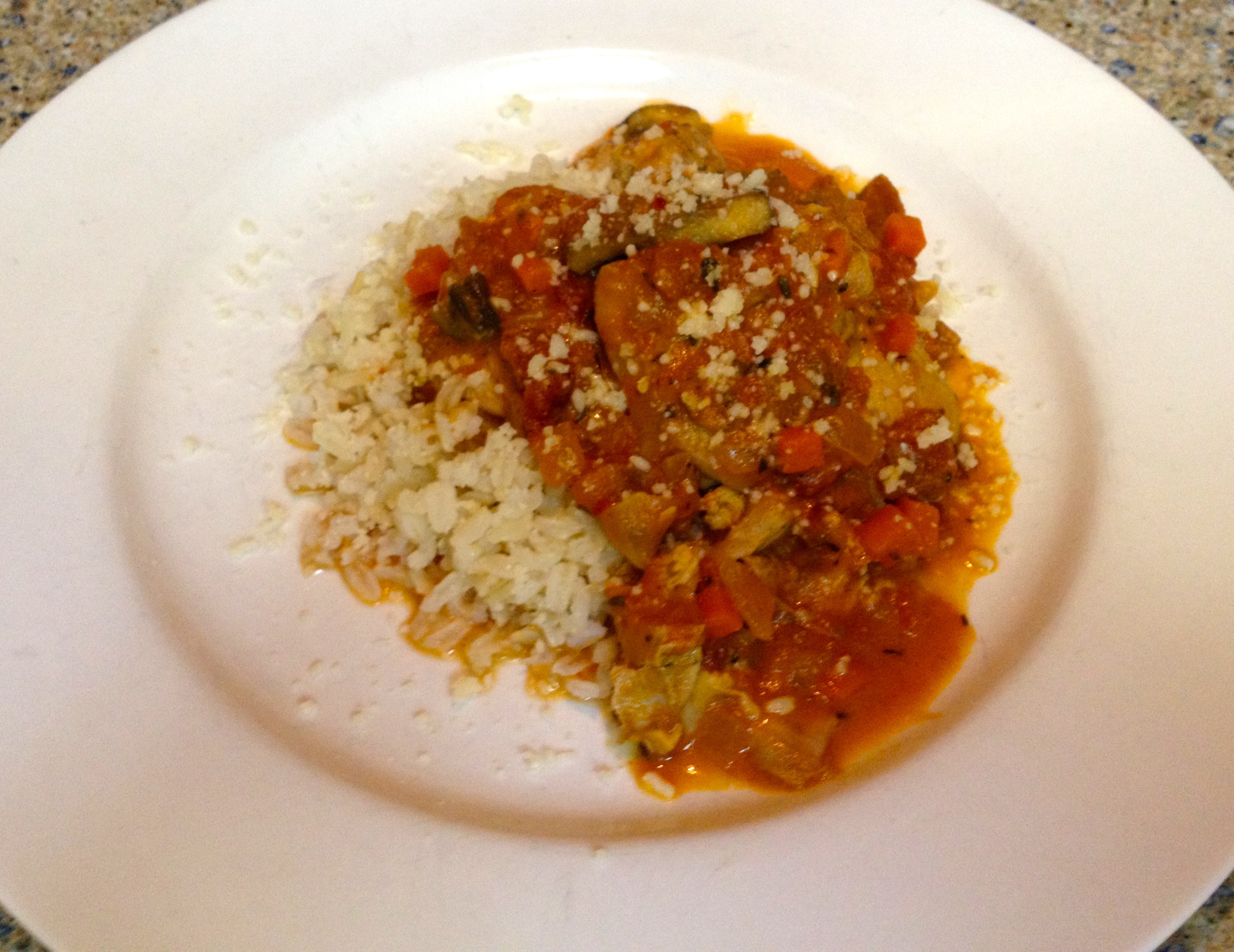 Leave a comment. Ask us a question...