Smoked Salmon Hash and a Fried Egg
I came up with this recipe trying to use some leftover smoked salmon after a long ride. The salmon is an excellent source of omega-3 fatty acids and iron.
Iron is very important for endurance athletes as the mineral allows your blood cells to supply your tissues with oxygen needed to support your metabolism. Low iron intake prevents your blood from carrying enough oxygen, leading to fatigue and an elevated heart rate
Ingredients
2 large Idaho potatoes, peeled and cut into small dice
Salt
Freshly ground black pepper
1 tablespoon olive oil
1/2 cup minced yellow onions
Pinch cayenne pepper
2 teaspoons minced garlic
8 ounces hot-smoked salmon, flaked
1tablespoons vegetable or olive oil and 2 tablespoons butter
4 large eggs
1 tablespoon snipped fresh chives – optional
Directions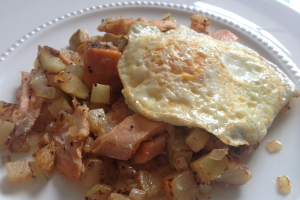 Heat the olive oil in a large saute pan over medium heat. Add in the potatoes, sautéing for about 5 minutes. Then add the onions, season with salt and cayenne, and cook, stirring, for 2 minutes.
Add the garlic and the salmon. Season with salt and cayenne and cook, stirring, for 1 minute. Set aside and keep warm while you fry the eggs.
Serves 4
Leave a comment. Ask us a question...