Slow Cooker Beef Paprikash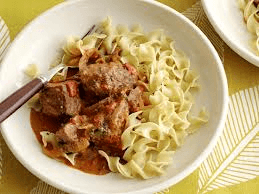 A slow-cooker or crock-pot should be in every single triathletes and/or endurance athletes kitchen. The low and slow option makes perfect sense for a workday — 8 hours later and dinner is served!
Also, think about when you head out on a 4+ hour ride on the weekend and you need something to get into your system during those crucial 20-30 minute window to help refuel and recover — there waiting is a hot, balanced meal when you return!
Ingredients 
Serves 6-8, but can easily be cut in half
1 medium onion, sliced
2 pounds cubed beef stew meat (about 1- to 1 1/2-inch pieces)
2 tablespoons all-purpose or whole wheat flour
Kosher salt and freshly ground black pepper
2 red bell peppers, stemmed, seeded and coarsely chopped (you can omit this if you dan't have them on hand)
3 cloves garlic, minced
1/2 cup low-sodium beef broth
2 tablespoons sweet paprika
2 tablespoons tomato paste
1 teaspoon caraway seeds, crushed
1/2 cup low-fat sour cream
1/4 cup freshly chopped dill and/or parsley
Hot boiled egg noodles or mashed potatoes, for serving
Directions
Spread the onions in the bottom of an 8-cup slow cooker. Toss the beef with the flour, 1 teaspoon salt and 1/4 teaspoon pepper and place on top of the onions. Top with the bell peppers and garlic. Stir together the broth, paprika, tomato paste and caraway and pour over the beef. Cover and cook until the meat is very tender, either on high for 4 to 5 hours or on low for 7 to 8 hours.
Uncover and let stand at least 10 minutes. Stir in the sour cream and dill and season to taste with salt and pepper. Serve over egg noodles or mashed potatoes.
1 Comment
Leave a comment. Ask us a question...