Skillet Gnocchi with Kale and White Beans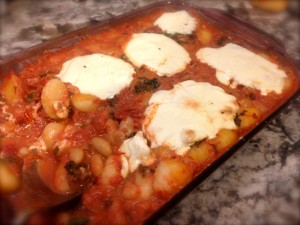 This is a relatively quick, healthy and nutrient packed one dish meal that is perfect for big training weekends.
The gnocchi gives you the right amount of carbohydrates, the beans are full of protein and the kale give you anti-inflammatory benefits while being one of the healthiest vegetables around. It also re-heats well without losing any flavor.
INGREDIENTS
1 tablespoon plus 1 teaspoon extra-virgin olive oil, divided
1 16-ounce package shelf-stable gnocchi
1 medium yellow onion, thinly sliced
4 cloves garlic, minced
1/2 cup water
6 cups chopped kale leaves, (about 1 small bunch) or spinach/chard/mustard greens
1 15-ounce can diced tomatoes with Italian seasonings
1 15-ounce can white beans, rinsed
1/4 teaspoon freshly ground pepper
1/2 cup shredded part skim mozzarella
1/4 cup grated parmesan
PREPARATION
Heat 1 tablespoon oil in a large nonstick skillet over medium heat. Add gnocchi and cook, stirring often, until plumped and starting to brown, 5 to 7 minutes. Transfer to a bowl.
Add the remaining 1 teaspoon oil and onion to the pan and cook, stirring, over medium heat, for 2 minutes. Stir in garlic and water. Cover and cook until the onion is soft, 4 to 6 minutes. Add kale (or spinach or chard) and cook, stirring, until starting to wilt, 1 to 2 minutes. Stir in tomatoes, beans and pepper and bring to a simmer. Stir in the gnocchi and sprinkle with mozzarella and Parmesan.
Cover and cook until the cheese is melted and the sauce is bubbling, about 3 minutes.
OR – Place in a casserole pan and bake for about 10 minutes at 350 degrees Fahrenheit.
3 Comments
Leave a comment. Ask us a question...