Ricotta and Spinach Gnudi with a Pomodoro Sauce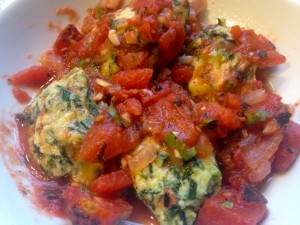 I came up with this recipe the other Friday as I was heading into a long weekend of training. I needed something that was filling, healthy and easily re-heatable without losing much flavor or drying out..
I had failed miserably making a gluten-free gnocchi earlier in the week and luckily succeeded with this gluten-free gnudi. These are easily frozen and re-heated as needed.
Ingredients
Gnudi:
1 cup skim milk ricotta cheese
1 pound frozen spinach, thawed and squeezed dry
1 cup grated Parmesan
2 eggs
2 egg yolks
1/4 teaspoon freshly grated nutmeg
1 teaspoon salt
1 teaspoon freshly ground black pepper
5 tablespoons brown rice flour (you can use all purpose)
Pomodoro Sauce:
1 28 ounce can of diced San Marzono tomatoes
1/2 an onion, chopped
2 large garlic cloves
crushed red pepper flakes, to taste
salt and pepper to taste
1 teaspoon of olive oil
chopped basil
Directions
Sauce:
Saute the onions for about 5 minutes, then the garlic for about 2 minutes. Add in the tomatoes, pepper flakes, salt and pepper to taste. Simmer on low for 15 minutes or more if you have time. When finished, add in the chopped basil.
Gnudi:
Pre-heat oven to 375oF.
In a large bowl, mix ricotta, spinach, Parmesan cheese, eggs, and yolks. Stir in nutmeg, salt, pepper and the rice flour. Form mixture in to small, flattened balls — an American football shape about an inch long
Place the gnudi on a pan and put in the oven for 15 minutes, then remove
Arrange gnudi on a plate and lightly drizzle with marinara sauce and chopped fresh basil.
Leave a comment. Ask us a question...