Recovery Sandwich: Fried Egg "BLT"
I sometimes think that desperate hunger after a long and hard bike ride is the key to coming up with the best recovery meals – not to mention a properly stocked pantry.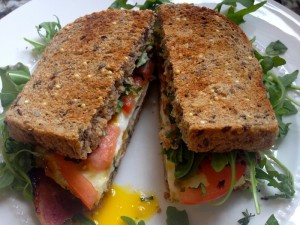 The leucine in an egg is like throwing gasoline on your muscle building fire. This is one of the reasons I immediately start thinking "what can I do with an egg?" on my way home after a century. In the southern states of the U.S., we are always making a bacon, lettuce and tomato sandwich during the summer.
So, I decided to do a twist on this classic and add 2 fried eggs while substituting arugula for the lettuce.
Ingredients
2 pieces of whole grain bread
2 eggs
1 slice of manchego cheese – you can use swiss cheese
half a tomato, sliced
1 piece of bacon
1/2 cup of arugula
chopped basil, optional
Directions
Cut the piece of bacon in half and fry in a small, non-stick saute pan. It should take a solid 8 minutes if cooking it over "almost"medium" heat.
Start toasting the bread.
At this point, the bread should be toasted and the bacon cooked. This means you start to assemble the sandwich.
After the sandwich is almost assembled, fry the eggs in the sauté pan until it's cooked to your liking.
Finish assembling the sandwich and enjoy!!!
Leave a comment. Ask us a question...