Pearl Izumi EM N1 Road Running Shoe Review
Greetings, Kinetic Revolution readers, and welcome to what I hope is the first of many guest shoe reviews that I'll pen for this site.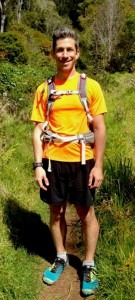 As I'm new to these parts, here's a bit about me: I hail from Brooklyn, I'm a long distance runner, and I am addicted to running shoes (they say the first step is admitting you have a problem).
Obviously, there's more to my life story, but I'll let you read about that on my blog, The Miler High Club, where you'll find a more complete bio, a training journal of sorts, and reviews of running shoes, apparel, and gear.
Let me add that while I own an extensive collection of trainers, I believe that good form is the most important thing we can equip ourselves with on each run – just like this site's Twitter mantra, #FormBeforeFootwear!
And now that pleasantries have been dispensed, on to my first review:
Pearl Izumi EM N1 Road
Pearl Izumi recently released a new line of shoes – including road, trail, and tri models – all based on a dynamic offset design they're calling E:Motion. You can read more about the theory behind E:Motion on Pearl Izumi's web site, but in brief, their dynamic offset (more commonly referred to as "drop") is meant to vary along with your foot through contact, mid-stance and transition, supposedly making for a quicker turnover and a smoother ride.
I've been on the hunt for some new options for a marathon distance shoe, and the specs for the EM N1 Road made them seem like possible race-day contenders. Let's see how they fared on the road…
Form
The EM N1 Road, is Pearl Izumi's lightest and lowest drop road model, weighing in at 8.2 oz in a men's 9, with a 4.5mm drop at mid-stance, and a stack height (read: cushioning) of 22mm in the heel and 15mm in the forefoot.
My previous experience with Pearl Izumi was with their Streak II, which had an extremely comfortable, seamless upper, but a toe box too cramped for my rather full-volume feet. The N1s also feature a seamless upper with welded overlays, but this time around Pearl Izumi rounded out the toe box, giving my piggies room to splay. The N1's uppers are made of slightly stretchy material that conforms beautifully to the feet, while still remaining very breathable. The welded overlays secure your feet without ratcheting them in place; and while there is no hard heel counter, I experienced no heel slippage during my runs. The lacing system is straight forward and I'm able to get even pressure across the top of my feet without any unwanted hot spots. I do wish that Pearl Izumi had included the bubble laces they offer in their E:Motion Trail N1 (the trail version of these shoes), as they help prevent the laces from loosening during longer runs.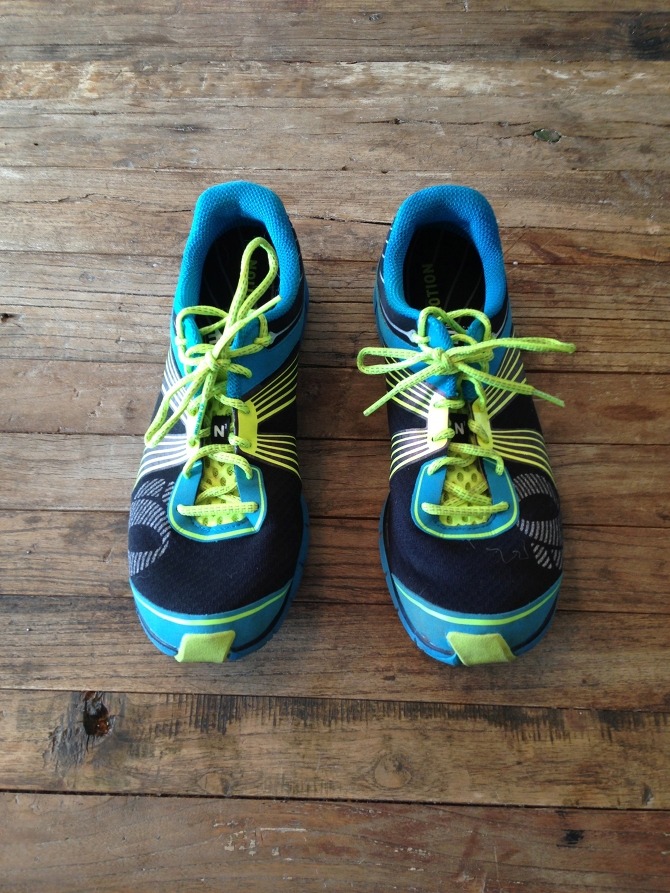 On the inside of the N1s you'll find Ortholite sockliners, which feel great and don't smell after roughly 100 miles. What you won't find is a prominent arch, which is generally how I prefer my shoes (I want my foot to do the arching, not my shoe).
The N1s have a straight-forward, EVA midsole and a similarly simple outsole, with blown rubber on the medial side of the forefoot, the lateral side of the heel, and in a contoured line from the middle toe to the middle of the heel that P.I. has called the "Flow Line" (you gotta love manufacturer jargon!).
Fit
As with the Streak II, I had to go up 1/2 size to make sure I wasn't in danger of losing (more) toenails and to allow for adequate midfoot width. I think if you have a narrower foot you can probably buy these in your normal size, but wider or thicker footed runners may want to size up accordingly. I will say that these are one of the most comfortable pairs of shoes I've ever had on my feet, and god knows I've tried on my fair share. Comfort is one of the most important criteria I have for evaluating new shoes, and the N1 passed this test with flying colors: no one part of the shoe's construction drew unwanted attention to itself. Pearl Izumi was among the first manufacturers to move to using seamless uppers, and their experience paid off here—I wish all my shoes fit like this!
Function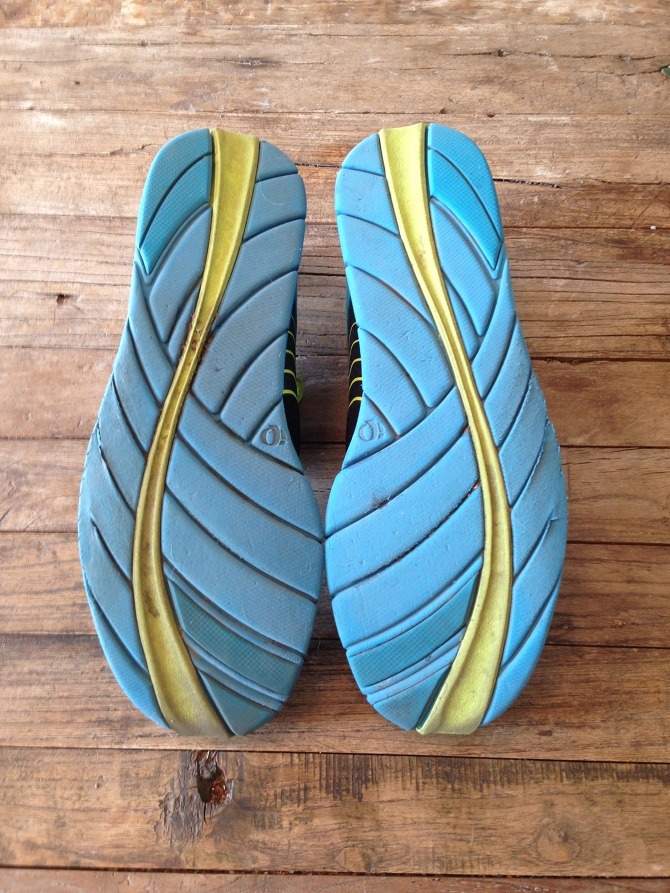 I'll start by saying that Pearl Izumi succeeded in making a shoe with an exceedingly smooth transition. I'm a midfoot striker (with some forefoot tendencies) and out of the box my form felt very good in the N1s—fluid, open, and even—and I didn't experience any blisters, hot spots, or discomfort of any kind. My footfall sounded very quiet, almost to the point of ninja status, and the shoes seem to get out of the way effortlessly during transition, making for a quick turnover, as advertised.
I always put new shoes through a variety of workouts before forming an opinion, and I was generally impressed by the versatility of the N1s at various speeds:  from easy days, to tempo work, to long runs, the N1s seemed up to the task.
One particularly memorable workout was an 18.5 mile run with 8 miles of tempo in the middle. I recall being impressed with just how seamlessly the N1s (and I) transitioned from my marathon training pace (~8 min/mile) to my marathon race pace (~7:15 min/mile), and my legs felt pretty fresh the next day. My feet never felt sore in the N1s and I looked forward to lacing them up before my runs.
Despite a minimal amount of blown rubber on the outsole, the N1s had good traction and didn't present any problems on wet surfaces or non-technical trails. The only place I didn't love the N1s was on the track, where some issues with midsole flexibility (see below) made them feel less efficient or speedy than some of the racing flats and others shoes I've been using for track work, like the Saucony Grid Type A5, Skechers GoRun2, or Asics Gel Noosa Fast.
Final Thoughts
While I've generally enjoyed my time with the N1s, there are a few areas for improvement. I found that the somewhat stiff consistency of the midsole limits the shoe's front-to-back and torsional flexibility, and reduces the amount of proprioception under foot. Other bloggers have also noted this issue and apparently Pearl Izumi held up production of the shoe to address their EVA recipe. If the pair I'm running on are production models (which I'd assume they are given that I purchased them from a major retailer) then I think they might want to tweak the foam on any future updates to make it a little more flexible and responsive.
I also think that the outsole could use some more blown rubber in areas of high wear, especially along the lateral sides by the midfoot. The N1s have rubber on their lateral sides by the heels, so the initial point of contact for heel-strikers is covered (in most cases the foot lands on the lateral side and rolls in); however, if you're a fore/midfoot striker and you have a touch of over-pronation (as I do) then you might find yourself chewing up the lateral sides of these shoes near the balls of your feet. The wear is noticeable in the picture below, and in person they almost look a little carved-out on their outsides (thankfully it's symmetrical on each shoe).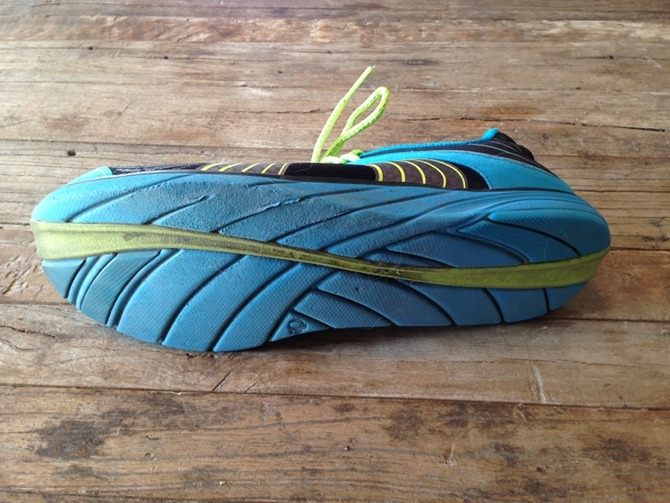 This isn't the kind of wear that I want to see on a shoe with less than 200 miles, but is similar to what I see on my Saucony Kinvara 3s (a good shoe that I also think could use some more blown rubber). I know my form is partially to blame for this wear pattern, but a little blown rubber on the lateral mid/forefoot would go a long way towards extending the longevity of the outsoles (my Brooks PureFlows have blown rubber along their entire lateral side and they've held up much better in this regard).
Obviously, one issue with adding more blown rubber is that it adds to the weight of this shoe, which at 8.2 oz. is already towards the heavier end of the light-weight/low-drop camp. It's not that I find the N1s particularly heavy; however, they're billed as race day shoes, and in that regard they are certainly a little beefier than many of the light weight flats and minimal trainers coming out these days. It's best to think of the N1 as more of a light-weight trainer that you can use on race day, than as a typical racing flat; and still, I wouldn't want to use these for a 5k or 10k.
Despite these issues, I think the N1s represent something of a Swiss Army Knife for runners who race half or full marathon distances, and who don't feel comfortable using racing flats. They offer ample support and cushioning for general weekly mileage, a quick and smooth transition for your faster days, and an exceedingly comfortable fit that you'll relish on your long runs. If you're already running in or are curious to transition to a lower-drop shoe (remember, always transition slowly!) then I think the Pearl Izumi's are definitely worth an audition. Runners who tend to land on the lateral edges of their foot during ground contact may want to keep in mind the wear issues I experienced with the N1s, but I think more traditionally "neutral" runners and even some mild over-pronators will find the N1 to be a versatile and highly comfortable shoe.
1 Comment
Leave a comment. Ask us a question...