Nike Zoom Structure+ 16 Running Shoe Review
This isn't a shoe that I was excited about. The Structure is by now a venerable but conservative line that, while shedding a degree of weight and clunkiness in recent years, has always slotted solidly into the "moderate stability" stable of running shoes that generally have a stiff piece somewhere along the medial side – to ostensibly limit foot movement – and often feel bulky and stiff.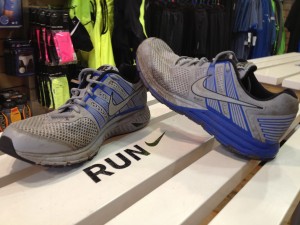 This incarnation is (with the usual proviso that we are all different and nothing is ever certain) an improvement.
The "medial post" has been done away with, and stability in the ride is instead offered by what Nike call "dynamic support"; that is to say a more rigid wedge of foam is superimposed on a softer wedge of material at an angle, meaning weight is borne through a progressively more solid platform as the foot progresses through foot strike. In addition, compared to the market, the midsole  is pretty firm and responsive.
The previous paragraph isn't worth a dam on paper (or screen) of course; the hot air from shoe manufacturers regarding their fanciful schemes to manage foot movement for the supposed benefit of our legs often need to be hastily dismissed when they feel wrong. This one hits its straps. While one is always aware that it isn't a low profile shoe by any means, the feel from the ground is entirely acceptable for uptempo sessions as well as steady slogs; the pleasingly unmeddled-with Waffle outsole gives solid grip; the fit is neither loose nor restrictive (its immediate predecessor seemed to run tight through the midfoot and instep).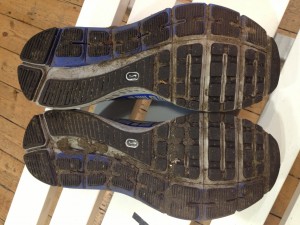 Typically forefoot striking and rearfoot striking runners alike have reported contentment to me with this shoe (a proviso from female testers is that the heel seems to be a bit looser than ideal for some). Steer clear if your experience has found that a flatter shoe feels better, or indeed if certain vulnerabilities have left you requiring something exceptionally soft underfoot.
400km or so of running in this UK 10.5 from your 69kg writer (mostly road, some soft paths) and it is feeling and looking pretty fresh. Above average durability.
The overall impression here is of a shoe that, for all the usual marketing waffle of epoch changing radicalism, is pretty old school and all the better for it.
Find the best prices for this shoe on Amazon
Additional Notes:
Weight of a production men's UK 9, out of the box: 303g
Weight of a production women's UK 5, out of the box: 244g
Blog on development of this shoe
5 Comments
Leave a comment. Ask us a question...