Mustard Coated Pork Chop with Baby Potatoes and Brussels Sprouts
One of the perks of cooking in the summer, is that most of the food can be made very quickly. Well, the same can be done in the fall and winter months too. It's all about picking the right vegetables and cuts of meat. This is a great representation of a super quick and healthy weeknight meal!
Ingredients
1 bone-in pork chop
1 tablespoon of honey dijon mustard
1 teaspoon of rosemary, minced
1 teaspoon of thyme, minced
1 clove of garlic, minced
5 brussels sprout, trimmed, cut in half
5 baby potatoes, quartered
1 piece of bacon
Salt and Pepper
Directions
Preheat the oven to 425 degrees Fahrenheit/218 Celsius.
Cook the bacon over medium heat for roughly 2 minutes.
While the bacon is cooking combine the mustard, garlic and herbs to form a paste. This is also a good time to mince the ingredients and cut the vegetables.
When the bacon is finished cooking, remove from pan, drain off most of the bacon fat, toss the brussels sprouts. Remove from saute pan and put in an oven proof dish; throw in the oven for 20 minutes.
While the vegetables are cooking, sear the pork chop on both sides, 1 minute each. Remove from heat and rub the mustard paste on one side.
With about 4 minutes left of the cooking time for the vegetables, place the pork in the oven to finish cooking.
Remove the meat and vegetables from the oven, crumble some bacon over it and and serve.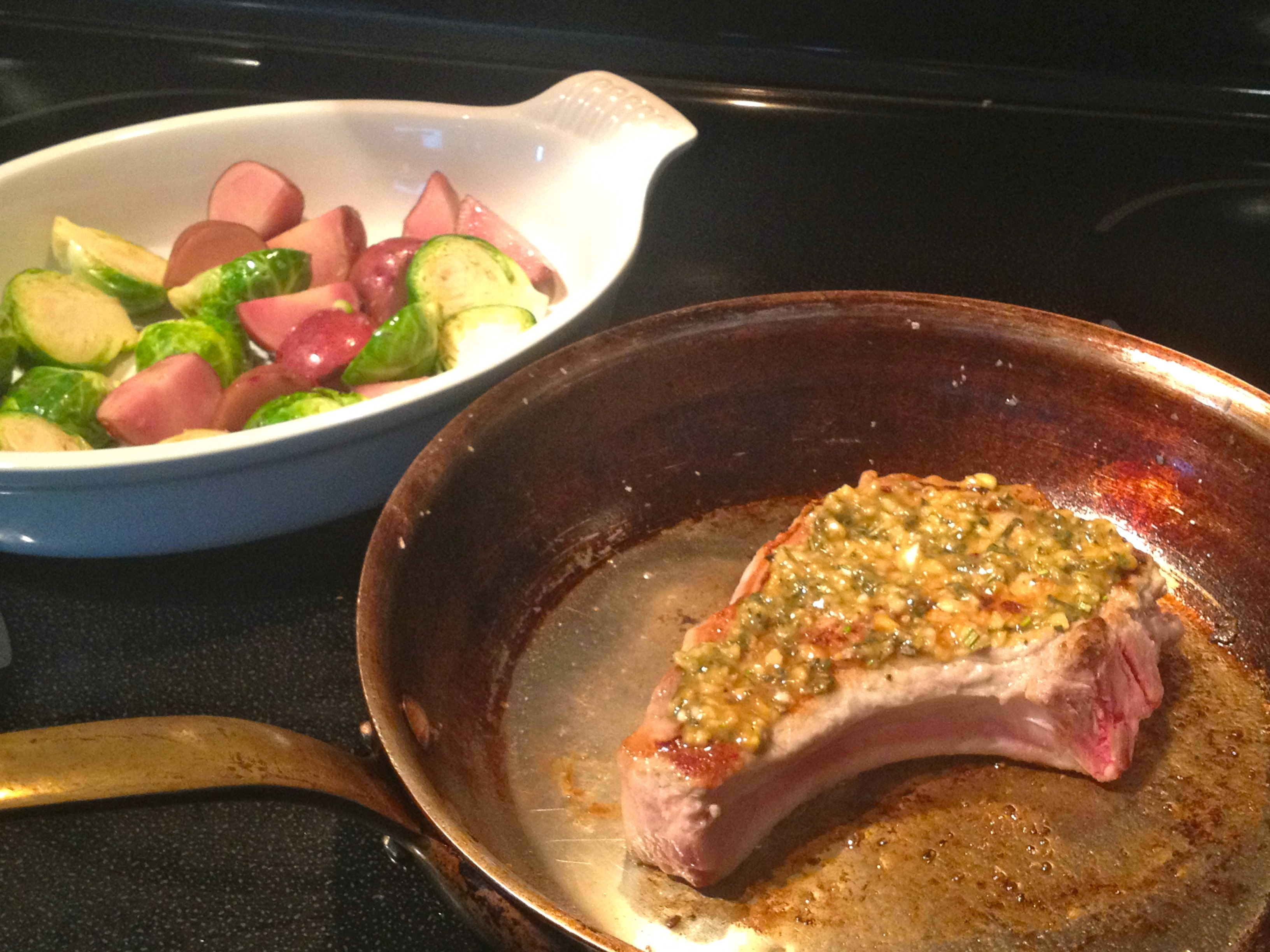 Leave a comment. Ask us a question...