More Bean Than Beef Chili
It's October as I write this, so the weather is getting cooler in the northern hemisphere and that means it's chili making weather!
There's something very comforting about sitting down in the evening, bundled up by a fire, eating a great bowl of chilhi. In a never ending quest to make great comfort food, healthier for everyone, I have tackled chili with success. The protein and fiber in the 3 bean mixture is perfect for helping keep your weight in check by satisfying you longer. They also offer tons of protein for your muscles, while being very nutrient dense.
INGREDIENTS
1 pound, lean, ground beef
1 15 oz can, each: kidney beans, pinto beans, black beans
1 small red onion, chopped
3 garlic cloves, minced
1 poblano pepper, chopped
1/2 jalapeño, minced
1/2 serrano pepper, minced
1 28 oz can crushed tomatoes
2 chipotle peppers, minced with 2 tabelspoons of reserved adobo sauce
8 ounces chicken broth
1 bottle dark porter
The minimum of 1 tablespoon each: cumin, chili powder, paprika, salt
The minimum of 1 teaspoon of garlic powder and onion powder
DIRECTIONS
Heat a dutch oven over medium heat and add in the beef, cooking for about 10 minutes. Season the beef with a little bit of all the spices. That's the trick to great healthy food. Layering the flavors.
When cooked, drain the beef and set aside. Saute the onion and peppers for about 5 minutes, then add in the garlic until fragrant; 2 minutes.
Put the beef back in and add the the beer, cooking for about 5 minutes.
Add in all the other ingredients. Cook on low heat for at least and hour. The longer it cooks, the better it gets. Keep tasting the chili and adjusting the seasoning until you get exactly what you like.
Serve with some sour cream and grated cheddar. Serves 6-8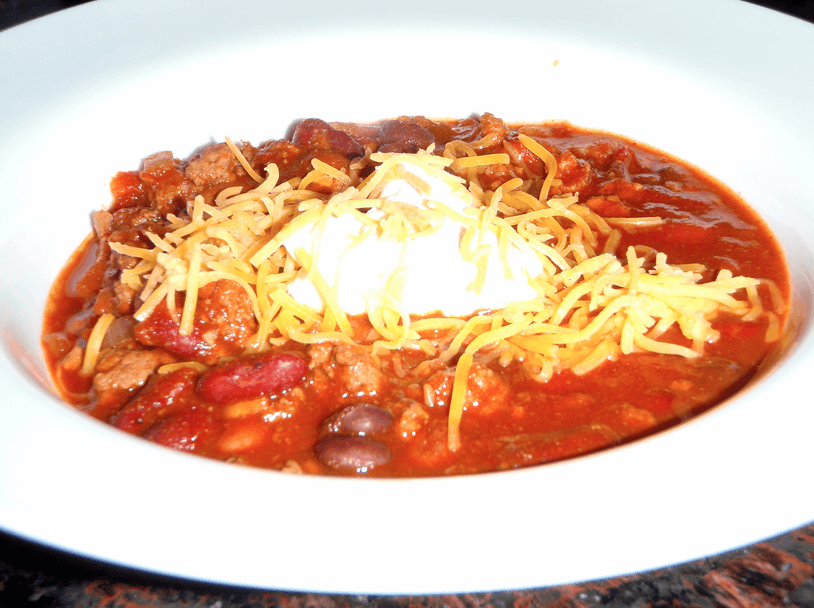 Leave a comment. Ask us a question...