Merrell Mix Master Move Road Running Shoe Review
Merrell Mix Master Move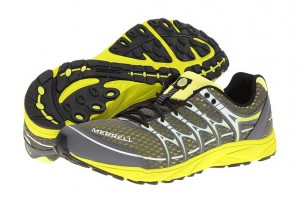 The Merrell Mix Move (MMM) is part of Merrell's M-Connect line, which features a variety of minimalist road, trail, and hybrid models that are light weight, low drop (0-4mm), and meant to put runners in greater contact with the ground.
Whether you're a hardcore minimalist or simply looking to transition to less shoe, they've probably got an option that'll suit you.
I fall somewhere in the middle, in that I'll use a more minimal shoe when doing form drills, short runs, or speed workouts; however, for the bulk of my running I want something with a little cushioning that's still light and low-drop . I've loved the fit and performance of Merrell's Mix Master 2 (MM2) on the trails, but I've shied away from using it for serious road mileage despite being billed as road and trail ready. I was excited to discover that the MMM was built on the same last as the MM2, but with some more road-specific features. So did the Mix Master Move meet my expectations?  Why, I thought you'd never ask…
Form
Thee Mix Master Move weighs in at 8 oz. (226.8 gm.) and has a heel-to-toe differential of 4mm. It has a very breathable mesh upper with stitched-on overlays around the midfoot and heel, reflective detailing, a protective toe cap, and a well-padded tongue (especially at the top where you knot the laces, which is a nice touch). Inside you'll find a somewhat contoured, removable EVA insole that feels nicely cushioned but not thick or clumsy.
The midsole has a 19mm stack height, 9mm of cushioning, and features Merrell's Float technology, which is supposedly 10% thinner and 25% lighter than standard EVA. There's also an air cushion in the heel, which means that even though Merrell seems to officially endorse a midfoot strike, heel striking doesn't feel jarring in the MMM. From a stack-height perspective you wouldn't call the MMM a cushiony shoe, but on your foot it feels very comfortable.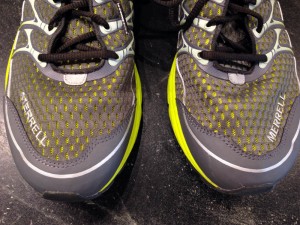 Given that Merrell is known for making great hiking boots, you would be correct in assuming that the outsole of the MMM would be well constructed. The MMM's outsole is covered almost entirely in shallow, sticky rubber lugs, with strategic gapping to preserve flexibility. Merrell's construction here is first-rate. They may not be the sleekest looking, but the design cues seem to reflect Merrell's background in making sturdy, no-nonsense, hiking footwear.
Fit
Merrell's experience designing technical footwear really comes through with the fit of the Mix Master Moves. I was very happy with the snugness of the midfoot and the openness of the toe box, which provided ample room for toe splay. The lacing system is straight forward, although I think the laces could be a touch shorter and they do seem to come untied more than some other models I use. If I had to draw issue with one aspect of the fit it would be that I'd like to be able to lock my ankle down a bit more. They tend to loosen around the ankles during a run despite using a lace-lock tying method and so you may want to swap in after-market laces. This is, however, an aspect of fit that I'm particularly sensitive to, so take it with a grain of salt.
I've been using the MMMs in my usual size 12 and I have just a hair over a thumbs-width of length from my big toe to the end of the shoe (this is generally how I prefer my shoes to fit). I have a sneaking suspicion that the lovely, wide toe box might allow me to size down to an 11.5 and that this move might dial in the ankle a bit better. I doubt I'll test this theory given the solid performance of the current pair. There's a small arch contour built into the last itself; and while I'm usually very sensitive to anything under my arch, I didn't note any irritation or discomfort from this on any of my runs. I particularly like the fuzzy padding at the top of the tongue, which alleviates pressure if you tie the laces too tightly. I also love the flexibility of the mid and outsole. This isn't a shoe that can curl into a ball in your hand, but when does your foot curl into a ball? I find there enough flexibility in the MMM that it allows my foot to move as it wishes (my feet have wishes? what are their hopes and dreams?) but not so much that it feels unstable.
Function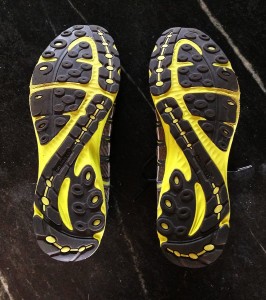 I've put a little over 100 miles on the Mix Master Moves and while I can't say I enjoyed every one of those miles, I certainly can't blame the shoes for that—peak mileage weeks can get rough! The MMMs have performed admirably on a variety of workouts at a variety of paces and on a variety of terrain. I found that the sticky rubber really helps inspire confidence on all surfaces; however, the slight lift I get in the ankle makes them feel just a tad less secure at times. Merrell really nailed the cushioning, putting in just enough to protect from repeated impact, but not so much that you don't feel connected to the road. The low stack-height also makes the MMMs feel inherently stable, despite any stability technology.
At 8 oz., the Mix Master Move won't be confused with the new breed of ultra-light racing flats, but I did find it surprisingly responsive at higher speeds because they are low to the ground and the ride is slightly firm. I enjoyed using them on a long progression run, taking them from marathon to 10k pace over the course of the workout. They transitioned effortlessly and nimbly at each pace increase. Seeing as I'm in marathon training, I was also curious to see how the MMM would do on long runs, and boy did it surprise me. Even though it has a good deal less cushioning than my usual long run shoes, Brooks's PureFlow, my legs still felt relatively fresh and nimble — even on a tough 20 miler with almost 2,000 feet of gain. The best part was that the next day, defying expectations, I wasn't even that sore!
I also liked the MMMs on trails, provided the terrain wasn't muddy or rocky. The full-length, sticky rubber outsole provided good traction and the toe bumper and overlays on the upper provided ample protection. The upper also dried pretty quickly after getting soaked, although the mesh is fairly open so grit will find its way in. The woman's version, the Mix Master Move Glide, has a 1mm shock absorption plate that protects from rocks, so I would guess the men's version also has this (awaiting confirmation from Merrell). The only days I didn't reach for them was on recovery days, but that's mostly because I don't like to use the same shoe for long runs and recovery runs.
In terms of wear and tear, the MMM has performed very well. There is some wear to the sticky rubber on the lateral edge of both shoes, right by the midfoot (a usual site of wear on my shoes that I'm working on), but nothing like the carved-out spots I saw on the Pearl Izumi EM Road N1. I've purposefully tried to beat this shoe up, taking on a variety of workouts in foul weather and on questionable surfaces, and it still looks almost brand new. I expect to get a good number of miles from these shoes, especially given Merrell's experience building durable footwear.
Final Thoughts
While I think the MMM is highly successful, there were a few areas for improvement. I obviously care more about a shoe's performance than its looks; but in this case I thought the stellar performance of the MMM deserved some better colorways and a sleeker upper. Merrell makes great hiking boots, but I don't really want my road shoes to look like I just got off the Appalachian Trail. I also think the shoe could be lighter. It's not that it feels heavy, but that the use of materials on the upper and outsole seem a little overkill for a road shoe. Merrell may want to investigate moving to a more seamless upper (for weight savings only; rubbing was not a problem) and use a little less sticky rubber on the outsole. Merrell's sticky rubber also seems to wear a bit faster than more conventional outsole rubber, which I also noticed in their Mix Master 2s. It's not a huge deal, but they might want to experiment with either a combination of outsole rubbers or tweak their existing formula.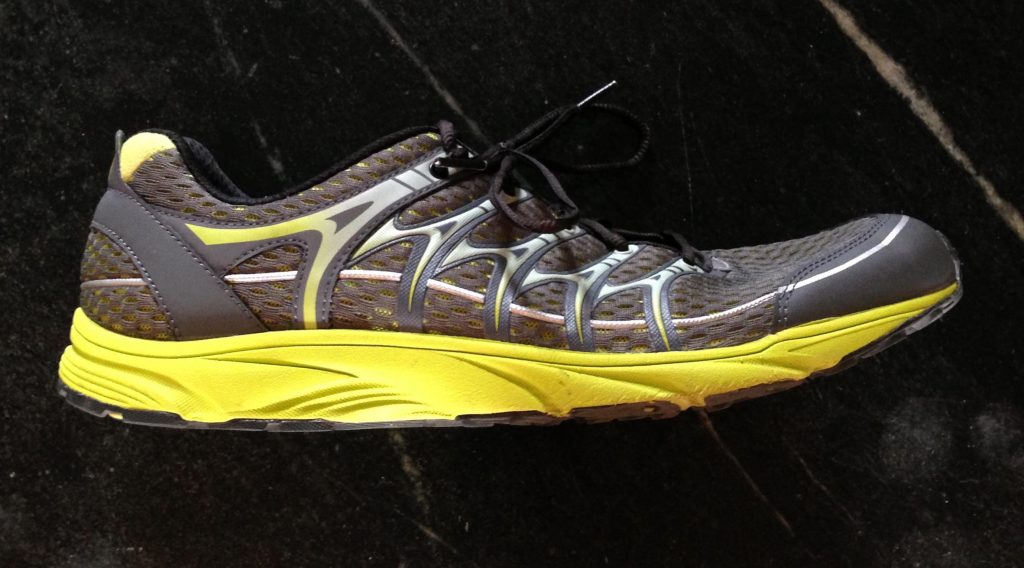 Overall, Merrell's Mix Master Move is a very well constructed shoe that inspires confidence under foot. I wouldn't necessarily jump into these if you're currently in heavily cushioned shoes, as the drastic change in cushioning could make for complications. In some ways, I view it as a transitionalist's transition shoe: if you're currently using something like the Saucony Kinvara or Brooks PureFlow, the Mix Master Move will put you that much closer to the ground, providing for more road connection and a firm, responsive ride. And while the amount of protection under and over foot may be overkill for a road shoe, I like knowing that I'll be well prepared for whatever I may encounter on my run, short of a boulder field or a mud pit.
My congrats to Merrell on a very good road shoe!
4 Comments
Leave a comment. Ask us a question...