Kitchen Raid: Vegetable, Baby Potato & Quinoa Quiche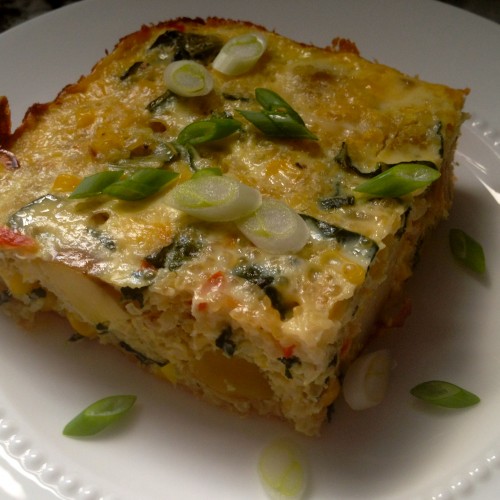 This last few months I've been on a vegetarian kick. Not 24/7, but definitely paying a lot more attention to it. So, I did a "pantry raid" of sorts for this very healthy and protein packed vegetarian meal. I used fresh corn in this recipe because it's in season here in the states. However, if it was the winter, I would have some in the freezer. This is a great meal to cook in advance and you can reheat for convenience…. Maybe as a post-workout meal or a late dinner after work.
Ingredients
1 1/2 cups of cooked quinoa
1/2 sweet onion, like maui or vidalia, chopped
1 small red jalapeño pepper, minced
2 garlic cloves, minced
1 ear of corn, taken off the cob
1 1/2 cups of sliced kale
1 pound of diced baby potatoes
4 ounces of smoked cheddar, shredded
4 eggs
3/4 cup of milk
salt and pepper to taste
Directions
Pre-heat the oven to 375 degrees F. Add the potatoes, tossed in olive oil and salt, while it's pre-heating. When
Saute the onion over medium heat for about 3 minutes, then jalapeño for 2, the corn for 3, then add the garlic and kale in for a few more minutes. Basically until the kale is wilted and the garlic is fragrant. Remove from heat. S&P to taste
In a mixing bowl: mix the eggs, milk and cheese together. S&P to taste.
Now combine all the ingredients together and pour into a 5X9 inch, well greased pan. Cover with aluminum foil and put in the oven.
Remove from the oven after 40-45 minutes. Let rest for about 5 minutes before serving.
This is exactly what you want it to look like when you take it out of the oven. Enjoy!!!!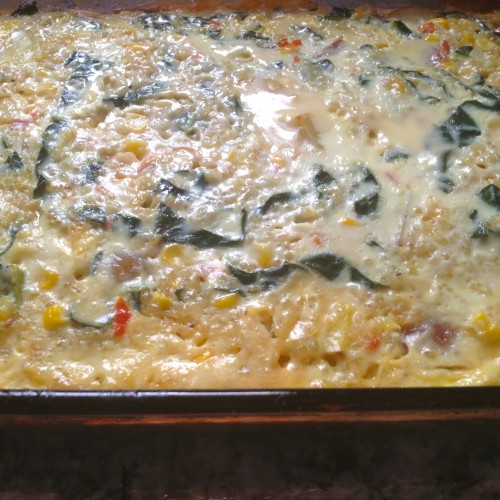 Leave a comment. Ask us a question...