Discounts For Our Athletes
As an athlete coached by Kinetic Revolution, you're entitled to access deals and discounts on certain products and services provided by our growing list of partners in the industry.
we are working on your behalf to grow this list for your benefit. So, regularly visit this page and keep up to date with new offers as they come online!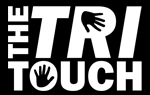 £10 off Sports Massage Treatments at TheTriTouch
Visit TheTriTouch.com