Crunchy Chickpea Spinach Salad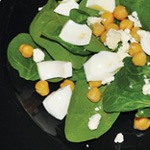 I'm always looking for news ways to add some meatless meals into my daily diet. I have an addiction to every single item in this dish so this was no brainer the other day when I was scouring my fridge for a meal. This is a great light lunch or a recovery meal that you can easily throw together in a jiffy – which is always a giant plus for us busy athletes!!!
Ingredients
2 cups fresh spinach leaves, chopped
2 hard-boiled eggs -I've found that most grocery stores now have pre-boiled eggs to help save time.
1 can chickpeas, drained – organic
1/4 cup olive oil
1/2 tsp. salt (may be omitted if watching your sodium intake)
1/2 of a large lemon
1/4 cup feta cheese – You can also use reduced fat feta cheese
Directions
Wash and pat dry spinach and place on large plate
Top with hard-boiled egg whites and feta cheese
To make chickpeas, heat olive oil over medium to high heat. Empty can of washed and drained chickpeas into pan. Allow to sizzle, stirring occasionally. Watch out for splatters, as the chickpeas tend to "jump" in the pan. Squeeze half of a large lemon over the chickpeas as they cook.
Cook about 10 minutes, or until chickpeas are golden brown
Sprinkle with salt
Scoop onto salad
Mix salad so that olive oil from the chickpeas becomes a light dressing
Makes 1-2 servings.
Leave a comment. Ask us a question...