Core150 Shaker Cup Review
I recently took delivery of a new protein shaker cup for use with my recovery drinks on the go. The Core150 Shaker Cup caught my eye on Amazon due to it's unique selling point – it features three internal storage units to keep your supplement powder or snacks prepared for use.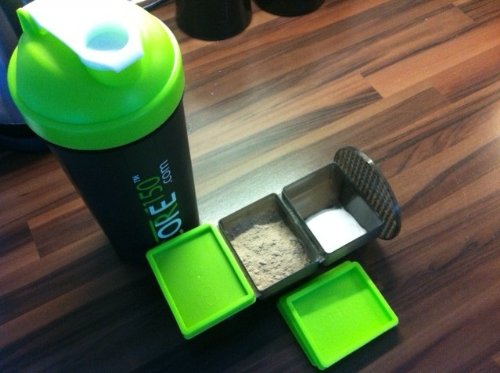 No so long ago I shared a video about the importance of having an effective post-workout nutrition strategy. A massive part of achieving a successful strategy is making sure that any supplements you use are close at hand and easy to prepare, come the end of your workout.
I've had my fair share of protein shakers in the past, with varied degrees of success. There have been the obvious frustrating problems such as leaking lids covering your bag with sticky drink – it's happened to me more than once!
In addition I've found that the biggest annoyance has been the need to carry around either the whole supplement tub, or the required serving dispensed into a smaller container. It all turns into such a hassle.
Up to now, I'd settled on measuring the powder out, into the shaker to be transported, ready for water to be added when needed. Invariably though, the powder never seems to mix properly using this method – leaving me with a lumpy delight to drink!
So I figured that with it's internal storage capacity, the Core150 Shaker could be a great product… if it truly does what it claims!
We Test The Core150 Shaker Cup
Observations
The first thing that struck me about the Core 150 Shaker was it's size! I knew that it was 1000ml in capacity, but had not anticipated how much bigger than a 'standard' shaker this would make it. Not a bad thing, just an observation! In particular, the increased width was noticeable, not just height.
Of course, then there's the real point of difference for this product, the internal storage device. Once you secure feeling screw-on lid, you find a single unit with three individually covered compartments, each able to hold 50g of powder (although I also use mine for nuts and dried fruit).
As you'd expect, the simple design includes the detachable mixing mesh, which to be honest doesn't seem too dissimilar from what you'll find on most other shaker cups.
Performance Testing
So, I've been using the shaker for a couple of weeks now. Here are the conclusions I've come to.
In many ways this product is simply a new twist on the tried and tested shaker cup many of us use on a daily basis. The actual act of mixing and drinking a protein or recovery shake etc… hasn't been reinvented. How could it really!
What the Core150 Shaker does do really well is take many of the annoying factors out of preparing and transporting your sports nutrition. For me, this means the following:
My shaker and supplement powders (and sometimes snacks) are all held safely in one unit in my gym bag.
The three 50g compartments keep my servings pre-measured, safe, separated and dry. Even when the shaker itself is damp from previous use. Massive plus!
The screw-on lid seems secure. No problems thus far!
The added capacity this 1000ml shaker provides is great for supplements which require larger serving sizes.
Conclusion
All in all, I'm pretty pleased with my purchase. As I said above, it's a twist on an existing idea, but so many good products are!
Priced on the product's own website at £14.99, it's about as much as I'd want to spend on a protein shaker.
Pleasingly, I found it slightly cheaper on Amazon (link below).
Leave a comment. Ask us a question...