Braised Chicken and Kale with Chickpeas
This easy, one pot meal has a great combination of lean protein, health benefits of kale and low carbohydrates. It makes a healthy option for dinner or a post-workout meal.
You can use any variety of kale in this dish.
Ingredients
4 boneless, skinless chicken breasts – you can use thighs and legs for a heartier dish
1 tablespoon paprika
Kosher salt, freshly ground pepper
1 teaspoon olive oil
1 medium onion, sliced
6 garlic cloves, sliced
1 can of chickpeas
1-2 cups chicken broth
1 cup dry white wine
2 sprigs rosemary
2 sprigs thyme
1 large bunch kale, center ribs and stems removed, leaves cut into 1″ strips
Lemon wedges
Instructions
Sprinkle chicken with paprika; season with salt and pepper. Heat oil in a large pot over medium heat. Add chicken and cook, turning occasionally, until brown on all sides, 8-10 minutes; transfer to a plate.
Add onion and garlic to pot and cook, stirring often, until softened, 8-10 minutes. Return chicken to pot; add broth, wine, herbs and chickpeas. Bring to a boil; cover. Reduce heat; simmer until chicken is cooked through, 25-35 minutes.
Add kale to pot. Cover; cook until wilted, about 5 minutes. Discard herbs. Serve chicken and kale with lemon wedges.
* If you do not have a big enough pot to throw the kale in before it wilts, saute in a pan and transfer before serving.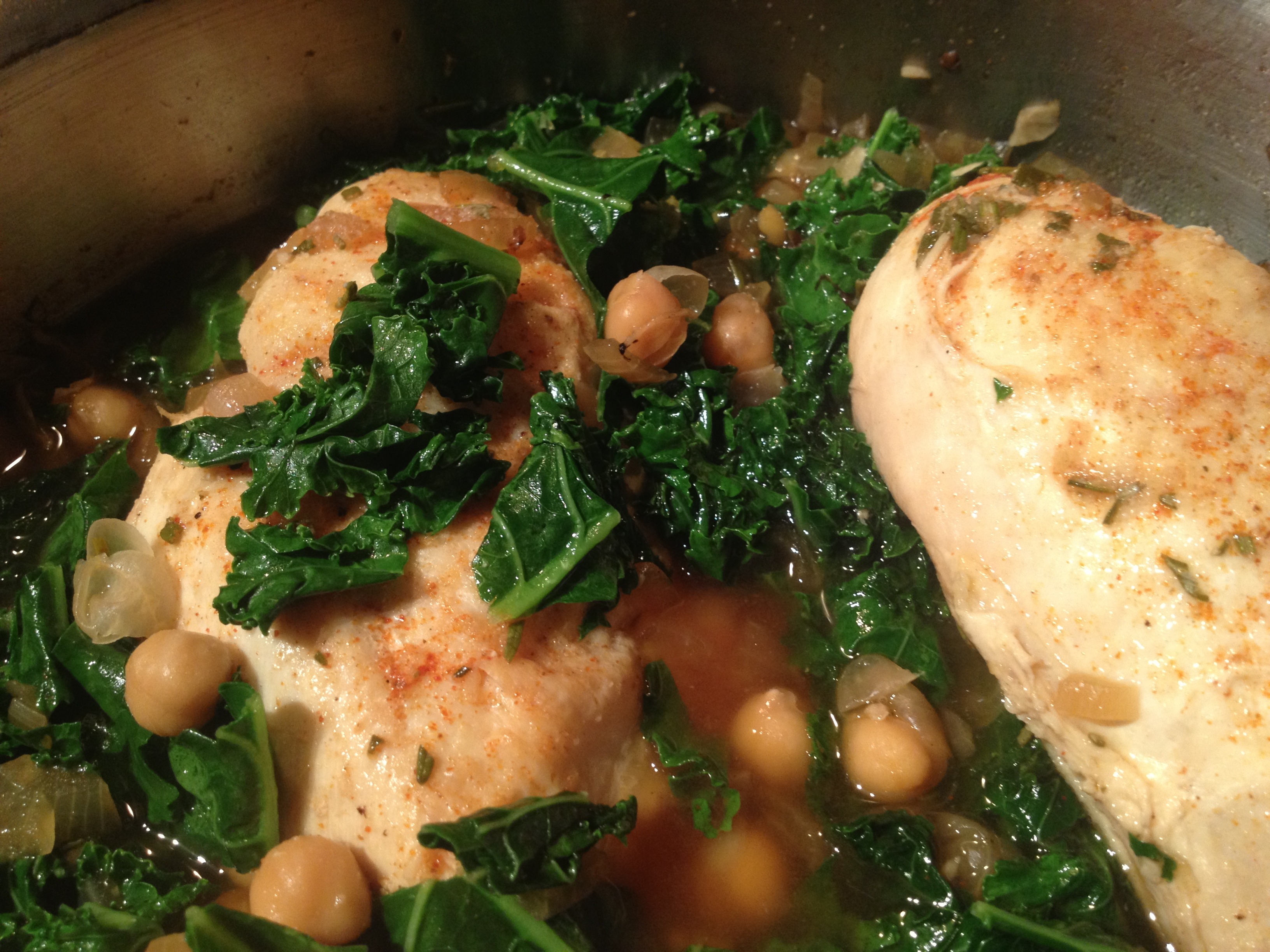 Leave a comment. Ask us a question...