Asics Gel NoosaFast Road Running Shoe Review
Asics Gel NoosaFast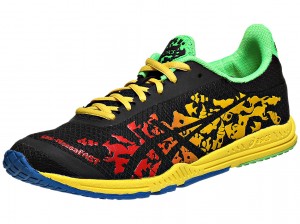 If you're a shoe geek, which I most certainly am, then you might be familiar with the following scenario: you buy a new pair of shoes on a whim while at your LRS (local running store, for the uninitiated) bring them home and excitedly install them in your shoe closet (what, you don't keep a closet of running shoes?) and then promptly forget about them because you have a closet full of running shoes and how can you honestly remember them all.
Such was the fate of the Gel NoosaFast ($100/£95) from Asics, which I purchased after a tipsy brunch one weekend and promptly forgot about until midway through my spring marathon season. Let this be a lesson: don't buy running shoes under the influence, or if you do at least remember to use the bloody things! In any case, I'm glad I eventually found them, tucked behind a worn-out pair of old racing flats, because they've been a real treat to use.
Form
The NoosaFast weighs 6.6 oz (187 gm) in a size 9 and has a stack height of 20mm at the heel and 16mm at the toes (4mm drop). It features a no-sew mesh upper with trippy, Australian-inspired overlays, a structured heel counter, and both conventional and triathlon laces (bungee laces). The sock liner provides a touch of cushioning and ample drainage via small perforations on its underside; and although it's lightly glued in place, it seems easy to remove if you want to swap in your own or go without.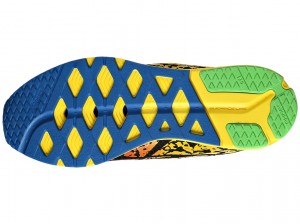 The midsole is composed of Asics's proprietary Solyte material with a silicon gel cushioning system in the heel. The midsole is also vented to allow for increased breathability and moisture drainage.
The outsole has high abrasion rubber in a latticed pattern that spans almost the entirety of the shoe. It also features an s-shaped, vertical flex groove running from heel to toe that Asics has dubbed the Guidance Line .
(Sidebar: I know brands need to differentiate their offerings from their competitors, and I don't doubt that some of their patented technologies have beneficial effects; however, the amount of seemingly needless acronymization and technical repackaging of common terms is really getting to me. It would be refreshing to see a company describe their shoes in human terms. Do we really need to keep inventing new ways to refer to standard features on shoes? Sidebar over.)
I've got to take a second to talk about the looks of these shoes: it's like the designer had an acid flashback in the Australian Outback. They're certainly eye catching, but possibly not everyone's cup of tea. Personally, I like a bit of flash so I don't mind when strangers comment on my rasta racers; however, it would be welcome to have some simpler colorways to choose from.
Fit
I've tried a variety of models from Asics and have yet to find one that fits: either they were too narrow, had too much arch support, or a weird midfoot bump. I was skeptical that the NoosaFast would be comfortable especially since it's a racing shoe, which often means they are meant to fit more snuggly than an every day trainer. I was pleasantly surprised to find that they felt great on my feet and I didn't even have to size up from my usual size (12 US).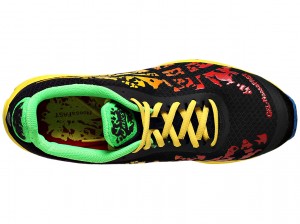 I have somewhat wide feet with low arches and I'm sensitive to overly supportive shoes. The NoosaFast didn't bother me at all, despite having a structured heel counter and some arch support. I think despite the conventional fit of these shoes (slightly narrow from toe box to heel) they actually accomodate a range of foot shapes. The seamless mesh upper has just the right amount of give, allowing your foot to feel secure but not pinched. Asics has a real winner with this upper and I hope it translates to some of their other models. I tried Ascis's Gel Lyte33 2 recently and generally liked how it performed but was turned off by the upper, which seemed bulky and restrictive to me by comparison. In an ideal world I'd widen the toe box to allow my toes to splay.
I don't think I've ever run sockless in my life, but the seamless interior of the NoosaFast was soft enough to tempt me into trying. I took them on a few 6 mile sockless runs and didn't notice anything on the interior rubbing me the wrong way. I should note that the heel cup extends a little high on the achilles and caused some irritation towards the end of one run, although this was never an issue when I was wearing socks. I aslo noticed some heel slippage with the bungee laces installed, but it didn't affect my form and this is something I'm particularly sensitive to. Overall I found the fit more secure with the stock laces, but the fact that the bungee ones are included is a nice touch.
Function
Depending on what you read, the NoosaFast is billed either as a replacement to Asics's HyperSpeed 5 racing flat or a brand new model targeting road runners and triathletes. That they've been designed to use sockless, have an extended heel tab to aid in entry, bungee laces, and drainage holes certainly makes a case for the latter. Either way, at 6.6 oz they are sort of in between a traditional racing flat  and some of the new lightweight, low-drop trainers like the Kinvara 4 or Karhu Flow3 Trainer, to name a few. Personally, I prefer the feeling of the NoosaFast to something like the Kinvara, as they are just a little bit firmer, allowing for a quicker turnover and less soreness after long runs.
The NoosaFast felt light and responsive on speed days, but also surprisingly comfortable on long runs. I think Asics really nailed the cushioning, which feels spongy but not sloppy, and I think there's enough support to use them for marathon distance, assuming you don't mind the somewhat snug toe box. I have lighter and firmer flats I'd use for shorter races, but I think the NoosaFast would be a good option for half-marathon and longer, where I like a bit of cushioning.
My favorite thing about this shoe is how smoothly it transitions under foot. I don't know if it's the  combination of outsole rubber or the lugless/nubless design, but they feel exceedingly smooth and my form feels locked in when I'm wearing them. They also have great traction on wet surfaces, despite the lack of more traditional gripping elements, and I've noticed less wear to the lateral part of the midfoot, which is where I usually  wear down my shoes the quickest. I can't honestly say if Asics's Guidance Line technology adds anything beneficial. It doesn't seem to greatly increase torsional flexibility in comparison to other brands that lack a vertical flex groove and it seems like more marketing technology to me, but I don't notice any deleterious effects either.
So what didn't I like about the NoosaFast? To start, the drainage holes on the bottom. Maybe this is a necessary feature if you suffer from excessive foot sweating. Personally, I found it a nuisance because it meant my feet were extra soggy on rainy days. In fact, I've yet to hear anyone say they love a shoe, but wish it had more holes in the bottom. I think the highly perforated sock liner and airy mesh upper should provide enough cooling that Asics could seal up the outsole ports. I'd also like a wider toe box. I know they're selling the NoosaFast as a racer, hence the narrower fit, but I think this shoe would have greater success as a lightweight trainer that you can race in, and a wider toe box would make the fit more universal.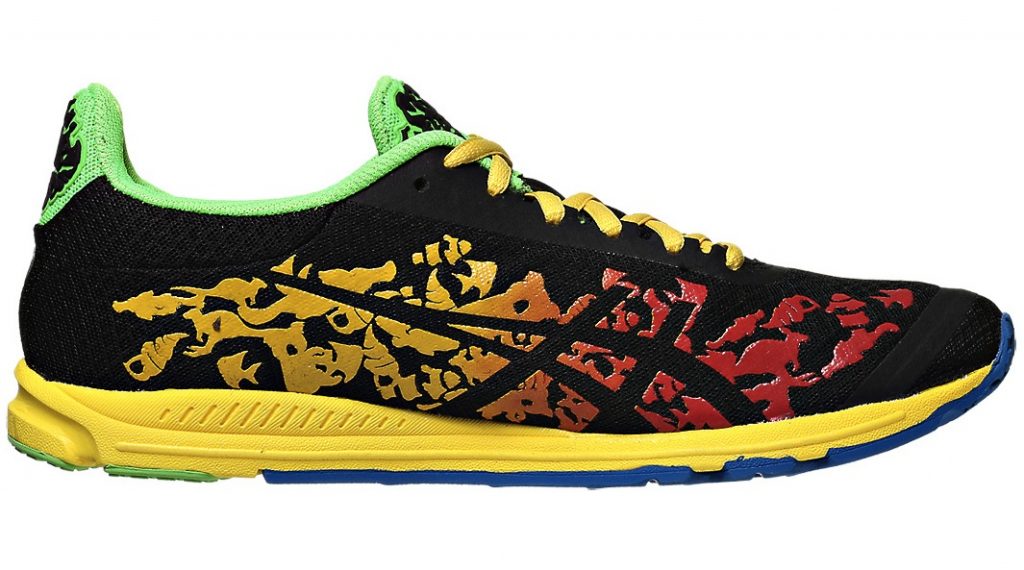 Final Thoughts
I've greatly enjoyed my time with the Asics Noosa Fast, which for me occupies a sweet spot by being very capable at fast speeds, but with enough cushioning to handle long miles. In the end I can't help but feel like Asics faces a challenge in marketing the NoosaFast as it's not really fish nor fowl. The triathlete-specific options could turn off some hardcore runners; and while it's certainly capable as a racing shoe, I feel like with a few tweaks it would be a great Kinvara of PureFlow competitor. The NoosaFast has only slightly less cushioning than the Kinvara, but is 1.4 oz. lighter and feels more stable to me underfoot, probably because of the lower stack height (20/16mm for the NoosaFast vs. 22/18 mm for the Kinvara 4).
My suggestions to Asics would be to nix the drainage holes, slightly widen the toe box, lower the heel tab, and make the design a little less similar to a Grateful Dead blacklight poster—voilà, instant lightweight daily trainer! I should note that if you're new to lightweight, low-drop shoes you're going to want to transition slowly, so don't go out and buy the NoosaFast (or a similar shoe) and start putting tons of miles on them. If you've been comfortably running in a 4-6mm drop shoe and are curious to try something lighter, I think the NoosaFast would be a good option.
I think the NoosaFasts also represent a pretty good bargain. Sure, at $100/£95 they can't be called cheap, but they only cost marginally more than traditional racing flats, they're on par with shoes like the PureFlow and Kinvara, and they're actually quite a bit cheaper than other triathlon-friendly shoes like the Asics Gel Noosa Tri ($125) or Altra 3Sum ($130). Granted, I've got less than 100 miles on  my pair, but I'm seeing less wear than on some of my other daily trainers exhibited at this stage and the cushioning still feels great.
In summation, regardless of what the designers were smoking during the aesthetic development phase (woah dude, the colors!), I applaud them on crafting a comfortable, versatile, and lightweight shoe that perfroms admirably and turns heads.
5 Comments
Leave a comment. Ask us a question...