15 minute Vegetable Pasta Dish for Two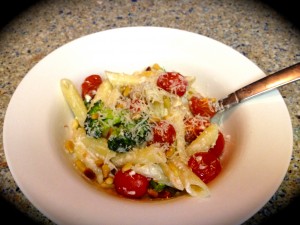 We are busy athletes, that need to eat healthy and are usually rushed for time. That means we need very quick meals that do not require much cleaning and are full of nutrients. This pasta dish fits the bill perfectly. Add in some sauteed chicken or shrimp for a little more protein if you want. Another plus to this pasta dish, is that the leftovers reheat easily the next day for lunch or dinner.
Ingredients
1 cups whole-wheat penne pasta or quinoa penne pasta
1 cup halved grape tomatoes — you can keep them whole if you want
1 cups of broccoli
1/2 cup part-skim ricotta cheese
Salt and pepper to taste
Red pepper flakes and chopped basil (really whatever fresh herbs you like" to taste
Directions
Prepare whole-wheat pasta noodles per package directions. While cooking, roast the broccoli and cherry tomatoes in a 375 degree oven for 10 minutes. After draining the pasta, immediately stir in the ricotta so it melts over the pasta. Stir in the broccoli and tomatoes. The juice of the tomatoes mixed in with the ricotta cheese makes a light "sauce".  Add in the basil and red pepper flakes for zip! Salt and pepper to taste.
It really is that easy!!!
Leave a comment. Ask us a question...